Welcome to
El Cajon Therapy Associates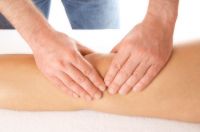 El Cajon Therapy Associates is a private practice physical therapy clinic that has been offering the finest physical therapy services for over 20 years. Our top-notch licensed therapists are continually updating their knowledge with on-going continuing education classes, so we can continue to offer you state-of-the-art, multi-disciplinary physical therapy services in a comfortable environment.
Fluent in Spanish
Fluent in Arabic
El Cajon Therapy Associates was founded by Nancy A. Krueger, PT, DPT, OCS, CHT. Nancy has been in practice since 1984 and has over 35 years experience as a physical therapist She is a doctor of physical therapy, a board certified orthopedic certified specialist (OCS) and a certified strength and conditioning specialist (CSCS).
El Cajon Therapy Associates offers a variety of specialized services, including:
Laser Therapy
Golf Fitness and Rehab
Strength and Conditioning Programs
Chronic Pain Management Programs
At El Cajon Therapy Associates, we treat the whole person by getting to the root of the problem. We believe in a one-on-one approach, so we can develop a specific individualized treatment program to help you return to work and play activities as quickly and cost-effectively as possible.
Let us help you feel your best!
Call us today at 619-444-6113 to schedule an appointment.
We offer evening appointments for your convenience.
We look forward to seeing you soon.